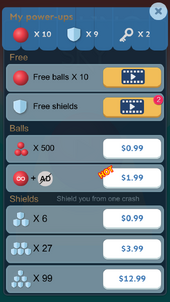 The shop is an area of
Rolling Sky
that can be found through the
Home Screen
by pressing the
Shop Button
. It allows playing to buy items that can offer them help during the game. (Note: All prices featured below are priced in USD[$] and English Pounds[£].)
Free Version
Edit
10 balls can be obtained by viewing an ad. 500 balls can be bought for $0.99 (£0.79) and unlimited balls can be bought for $1.99 (£1.49).
Both Versions
Edit
Shields be obtained by watching an ad. 6 shields can be obtained for $0.99 (£0.79), 27 for $3.99 (£2.99), and 99 for 12.99 (£9.99). At the top of the screen, there will be section titled "My power-ups", where you can view how many balls, shields, and keys you currently have.
Special Offers (Free Version)
Edit
There was a special offer around Christmas in 2016. Players could buy 800 balls and 20 shields for $3.99 (£2.99) which was a 20% off deal. They could also buy 200 balls, 39 shields and 6 keys for $8.99 (£6.99) which was a 30% off deal.
Ad blocker interference detected!
Wikia is a free-to-use site that makes money from advertising. We have a modified experience for viewers using ad blockers

Wikia is not accessible if you've made further modifications. Remove the custom ad blocker rule(s) and the page will load as expected.